It is a device that detects brightness, humidity, temperature and motion within a radius of 4m.
The brightness and presence parameters interact with the control of the lights, that can be set by remote control.
The revealed values are shown on the display. It has touch controls for manual control of lights. It needs 12v electricity supply.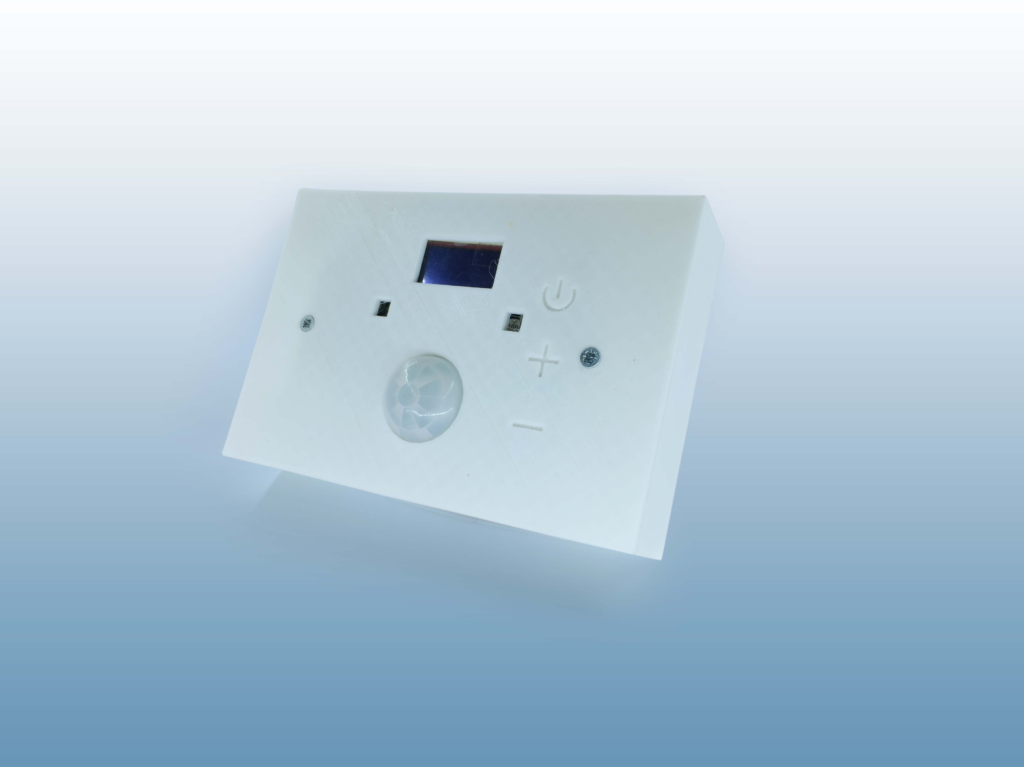 Homatron device based on panStamp
Repeater with user-defined number of hops. 0 = does not repeat
Reporting: green on - red off
elimination of reporting: possible
IR remote control functions: switch on - switch off - restart during the pairing process - enable / disable the alarm - enable / disable remote control
ammeter
Interacting with the Wireless lighting control H2.0_REREG1 or Lighting control H2.0_REREG2, depending on the perceived brightness in a room you can vary the intensity / power on / off lights.
| | |
| --- | --- |
| MODEL CODE | H2.0_RESEN5 |
| POWER | Cable connection |
| DIMENSIONS | 12 x 8 x 2.3 cm |
| RADIO FREQUENCY | 868 MHz |
| NOTES | Installation of this device requires an electrician |
| MINIMUM REQUIREMENTS | It requires a Network hub domy H2.0_SASER1 and a Wireless lighting control domy H2.0_REREG1 or Lighting control  domy H2.0_REREG2 |
| | | |
| --- | --- | --- |
|  domy NETWORK HUB |  domy  ENVIRONMENTAL SENSOR | domy WALL PLUG-AND-CONTROL POWER OUTLET |
| | | |
| --- | --- | --- |
| domy RADIO RELAY CONTROL | domy RADIO SWITCH CONTROL | domy WIRELESS LIGHTING CONTROL |
| | | |
| --- | --- | --- |
| LIGHTING CONTROL domy | domy MULTISENSOR | domy POWER STRIP |