domy  Wall plug-and-control power outlet is a wireless device, based on panStamp, which suitably connected with a normal plug makes it in domy system.
The plug can be activated with the appropriate system interface, inserted as a cause or effect in scenario action, also turned on / or off via any IR remote control (a normal remote control for television is fine).
The device enters into any junction box next to the plug to command and it display a green LED when it is powered, red otherwise. This signal can be switched off  by remote control and by interface. The remote control will work even if the Network hub should be out of service for any reason.
domy  Wall plug-and-control power outlet provides the consumption of the equipment connected to the plug (ammeter), can support a load of up to 3.3kW and is thermally protected (internal thermometer) and for overloading. The device may be used as a repeater in the case other devices, furthest from the Network hub, fail to perceive the signals.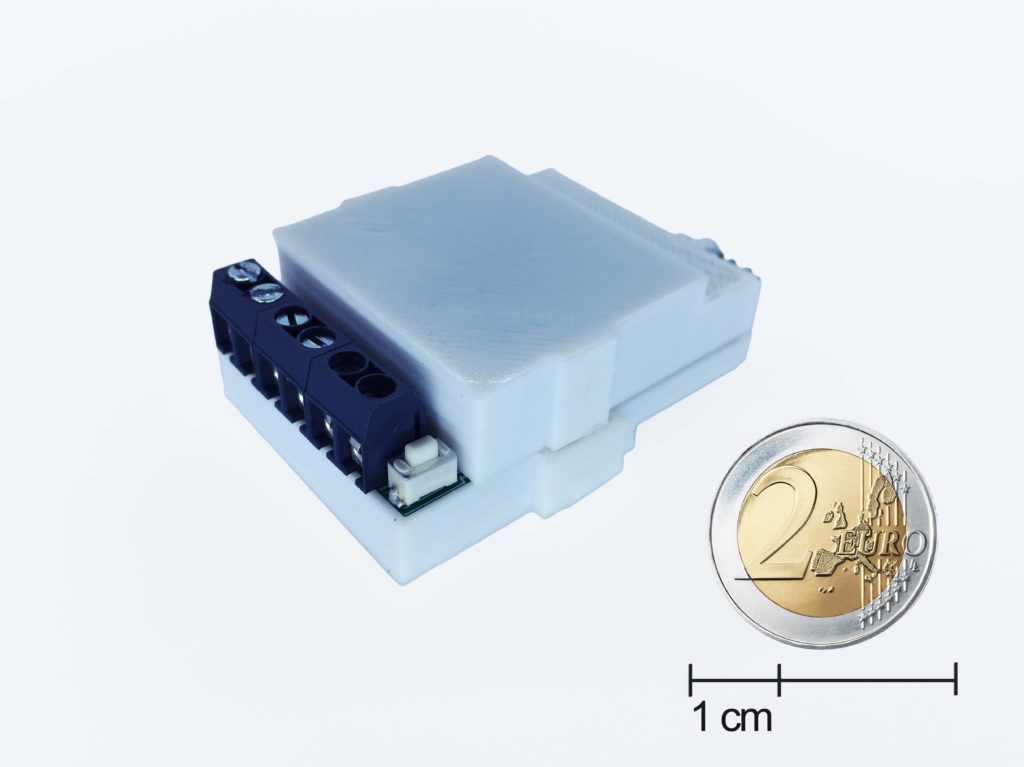 Homatron device based on panStamp
Repeater with user-defined number of hops. 0 = does not repeat
Reporting: green on - red off
elimination of reporting: possible
IR remote control functions: switch on - switch off - restart during the pairing process - enable / disable the alarm - enable / disable remote control
ammeter
You can program the switch on the coffee machine before awakening
You can program the switch on the electric heater in the bathroom before awakening
You can schedule shutdown of playstation children after 1 hour of use
You can turn on / off the oven from your smartphone
| | |
| --- | --- |
| MODEL CODE | H2.0_REPRE3 |
| POWER | Cable connection |
| DIMENSIONS | max 53 x 20  mm |
| RADIO FREQUENCY | 868 MHz |
| NOTES | Installation of this device requires an electrician |
| MINIMUM REQUIREMENTS | It requires a Network hub domy H2.0_SASER1 |
| | | |
| --- | --- | --- |
|  domy NETWORK HUB |  domy  ENVIRONMENTAL SENSOR | domy WALL PLUG-AND-CONTROL POWER OUTLET |
| | | |
| --- | --- | --- |
| domy RADIO RELAY CONTROL | domy RADIO SWITCH CONTROL | domy WIRELESS LIGHTING CONTROL |
| | | |
| --- | --- | --- |
| LIGHTING CONTROL domy | domy MULTISENSOR | domy POWER STRIP |