It is a wireless device, based on panStamp,  that you connect with the adjacent switch and turns it into a controlled switch: it detects the state and operates a variation on / off.
It can also be controlled or detected by remote control.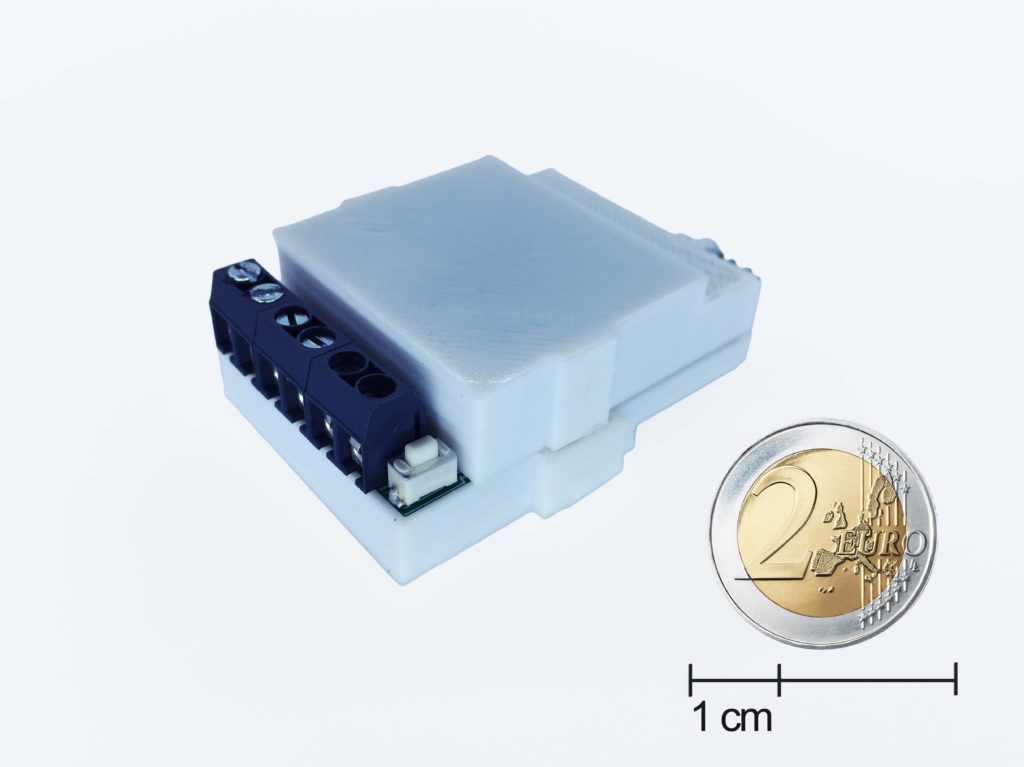 Homatron device based on panStamp
Repeater with user-defined number of hops. 0 = does not repeat
Reporting: green on - red off
elimination of reporting: possible
IR remote control functions: switch on - switch off - restart during the pairing process - enable / disable the alarm - enable / disable remote control
ammeter
You can automate the lights choosing to dim, brighten, or turn on or off at set times each day.
Once integrated into the home automation system, you can prepare the operating scenarios that upon the occurrence of certain events switched on or off the connected devices. For example if you have a motion sensor and a light, you can set the system so that in case of presence of someone it turns on the lights and turns off after a preset time when there is none.
Through your smartphone connected to internet you can turn on / off devices also when you are away from home.
| | |
| --- | --- |
| MODEL CODE | H2.0_REINT1 |
| POWER | Cable connection |
| DIMENSIONS | max 53 x 20  mm |
| RADIO FREQUENCY | 868 MHz |
| NOTES | Installation of this device requires an electrician |
| MINIMUM REQUIREMENTS | It requires a Network hub domy H2.0_SASER1 |
| | | |
| --- | --- | --- |
|  domy NETWORK HUB |  domy  ENVIRONMENTAL SENSOR | domy WALL PLUG-AND-CONTROL POWER OUTLET |
| | | |
| --- | --- | --- |
| domy RADIO RELAY CONTROL | domy RADIO SWITCH CONTROL | domy WIRELESS LIGHTING CONTROL |
| | | |
| --- | --- | --- |
| LIGHTING CONTROL domy | domy MULTISENSOR | domy POWER STRIP |