It is a wireless device, based on panStamp, that suitably connected to a normal relay 2 or 4-positions is able to communicate to domy home automation system the condition of the two circuits (4 positions).
The system may instead send the pulses in a manner that the relay connected to it cyclically shots of a position. Because it communicates via radio, it does not need particular interventions for the installation such as addition of cables or masonry, but just the proper connection of the wires (it is preferable to be installed by an electrician).
Due to its small size, it is normally housing inside the junction box, where the relay is allocated.
Well as through the home automation system you can also operate with a remote control.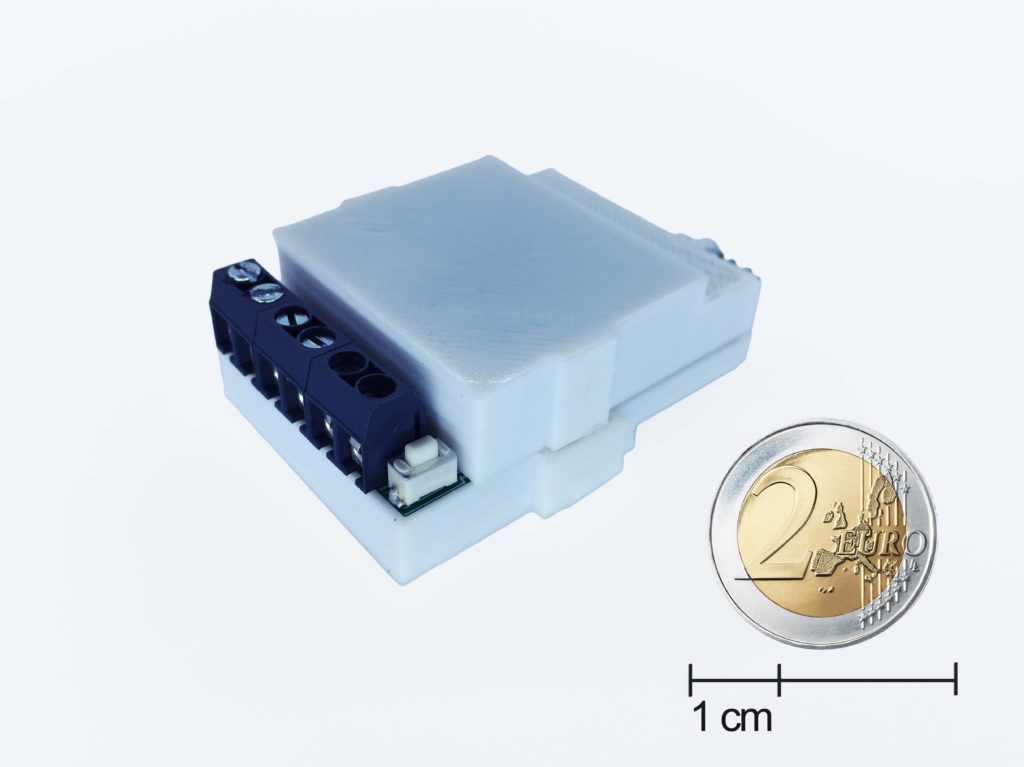 Homatron device based on panStamp
Repeater with user-defined number of hops. 0 = does not repeat
Reporting: green on - red off
elimination of reporting: possible
IR remote control functions: switch on - switch off - restart during the pairing process - enable / disable the alarm - enable / disable remote control
ammeter
| | |
| --- | --- |
| MODEL CODE | H2.0_REREL1 |
| POWER | Cable connection |
| DIMENSIONS | max 53 x 20  mm |
| RADIO FREQUENCY | 868 MHz |
| NOTES | Installation of this device requires an electrician |
| MINIMUM REQUIREMENTS | It requires a Network hub domy H2.0_SASER1 |
| | | |
| --- | --- | --- |
|  domy NETWORK HUB |  domy  ENVIRONMENTAL SENSOR | domy WALL PLUG-AND-CONTROL POWER OUTLET |
| | | |
| --- | --- | --- |
| domy RADIO RELAY CONTROL | domy RADIO SWITCH CONTROL | domy WIRELESS LIGHTING CONTROL |
| | | |
| --- | --- | --- |
| LIGHTING CONTROL domy | domy MULTISENSOR | domy POWER STRIP |